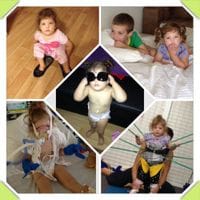 Hi my name is Millie and I love to sing and dance.
Over the past year I have made great progress thanks to my friends, family and supporters. I am now pulling myself up and walking around furniture. Hopefully soon I will be walking on my own.
For those of you who don't already know me. I have Oromandibula Limb Hypogenesis Moebius Syndrome. This effects my brain, face, eyes, ears, hand, feet, speech, strength, growth and development. With the hard work of my parents, family and friends, they say I can lead a independent life in the future. I struggle with eating, talking, walking, hearing, growth, but most of all colds and flu. I seem to get too tired to support my body. But here are some other things I have been up to this past year.
I have started a special school two days a week and I enjoy painting and playing play dough.
I also attend speech therapy and physio every week and mum says I'm doing great. I can now sign 10 words and my speech is a little hard to hear but I am trying to talk lots too. Mum still drives me to and from many appointments, between home and the hospital, as I am still being watched closely but my team at the RCH.I have had one stay in hospital this year which had me on ventilation, but I have recovered well. I am hoping I do not have to go back, but winter can sometimes be a tough time for me. This year we hope to fundraise to help with the extra costs it takes to keep me safe and healthy. We are also hoping to be able to give Millie a bigger room for all of my equipment.
A message from mum.
Thank you to all who donated so far. We have bought Millie a standing frame, an air conditioning unit and been able to afford to be at the hospital on admissions. Your love and support has not gone unnoticed and we very much appreciate it. We are going to continue to give and do everything in our power to support and strive for Millie to be independent in the future.
Blessings From the Walford family. AKA MISS MILLIE TEAM