| | |
| --- | --- |
| Donation Target: | $35,000.00 (AUD) |
| Current Total Raised: | $0.00 (AUD) |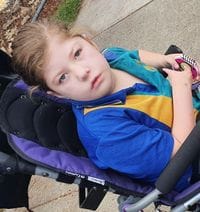 Please help us by donating towards a Hyperbaric chamber to help relieve Millie's pain that she suffers from daily.
My Name is Millie and I am fortunate to have a great team around me trying their very best to find ways to support me when I am in pain. I have many congenital abnormalities but something I struggle with daily is Complex Pain syndrome in both of my legs. When I am in pain I cannot walk and sometimes cannot talk, it brings on a big red rash over my body and swells my lip and eye. We are hoping this will alleviate some pain so I can join in school and community activities and give me more strength and endurance to participate for longer.
Please help us to achieve our goals by donating at www.developingfoundation.org.au Miss Millie's Bright future. Thank you in advance.

Millie's Story
Millie is almost 10 and has Oromandibular Limb Hypoplasia Moebius Syndrome. Angioedema, Urticaria, Complex pain and Chronic lung disease. I know right, it doesn't mean much to people at this level, but to break it down she has, 2 nerves missing from her brain that control her face and eyes, small mouth and airways, small and set back jaw, high pallet. Wears hearing aids and Glasses. Has 1 hand and had club feet (corrected as a baby and had 2 relapses) and a developmental delay. Complex pain is what she suffers from daily. It is debilitating and when she has it cannot walk and or talk. But, and there is always a but... Millie has the best attitude to life. She is always happy and always tries her best when pushed to her limits at school and in therapies.
Our Vision
Our vision is for Millie to be pain free. We aim for 1 day at a time. The best outcome she can achieve is to be independent in her future.
Thank you in advance for taking the time to read our story. Millie is on FB under Miss Millie team, support for a bright strong future. Donations of $2 or over are tax deductible through this page and are very much appreciated.
Kind Regards
Miss Millie Team Captain (AKA Mum)