| | |
| --- | --- |
| Donation Target: | $15,000.00 (AUD) |
| Current Total Raised: | $10.00 (AUD) |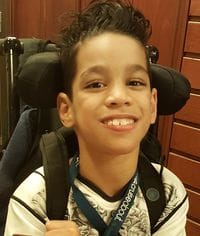 Please donate to help me to be a part of my community and to improve my independence. I need a modified vehicle for my wheelchair and functional strengthening therapy sessions.
Hi, I'm Naz and Im 8 years old. I have Cerebral Palsy which affects all parts of my everyday life. I love to participate as much as I can through my school, with my family and friends and in my community. That's why my family and friends are fundraising towards a modified vehicle so I can drive my wheelchair straight in the back of the van and get around more easily to watch my brothers' footy games, go to the park, go to the beach and to go visiting my family and friends, etc. I also need to do lots of functional strengthening exercises with my therapists to keep me as strong and healthy as possible and to help me achieve some greater independence in doing everyday activities.
Please help me to become the best that I can be and donate online. To keep in touch with what Im up to, you can also check out my Facebook page or call my Mum, Leah on +61 450 007 981.
My Story
I suffered a brain injury at birth through a lack of oxygen to the brain and was left with Cerebral Palsy which affects all parts of my body and my life. Things that are so simple and people take for granted, are a huge effort for me. I am unable to sit, talk, crawl or walk and I'm fed through a tube in my stomach. I need people to help me 24/7 with everyday activities. Despite these everyday challenges, I am a typical boy with a cheeky smile, who enjoys playing, going to school, socialising and being out and about taking in the sights and the sounds and seeing what's happening in the world!
My Goals and Needs
Every year as I grow bigger, my needs change. This year my main priorities are:
1. Ongoing strengthening and functional therapy (this one never changes and I need to do this regularly to keep me as strong and healthy as possible!).
2. A modified van that I can just drive my wheelchair straight into the back so my Mum & Dad can take me around more easily.
How you can help Me
Donate online by pressing the "donate now" button on my webpage and receive an automatic tax deductible receipt.

Send this page to your family, friends, colleagues and anyone else you can think of and invite them to donate.

Helping our team with practical things and support.

All donations of $2 or more are tax deductible. The Developing Foundation commits the proceeds of the funds raised to these unmet needs.
Thank you for your support and for helping to make a difference in my life. It means so much to me and my family.
If you have a question for our team please call or email, contact details below.
My Mum, Leah 0450007981
My Dad, Marty 0424170723