| | |
| --- | --- |
| Donation Target: | $22,000.00 (AUD) |
| Current Total Raised: | $2920.60 (AUD) |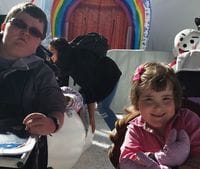 Your urgent help is required to purchase a two wheelchair tie down van for Tallis and Jazzy to achieve their goals!
Hello! Team Munro Kids includes two amazing children. Tallis is eleven and has Cerebral Palsy, Autism and an Intellectual Disability. Jazmine is seven and has Cerebral Palsy also. They are both very happy, motivated, determined and loving children, who are also wheelchair dependent. An appropriate wheelchair accessible van is imperative to help these awesome kids access their appointments, therapies and social outings. Plus, Tallis needs this new van to be able to attend high school next year, as school transport is unavailable.
Please donate online and join us on the Team Munro Kids Facebook page to keep in touch with Tallis' and Jazzy's activities and to learn about further fundraising adventures for can get involved in.
Our Story
Tallis and Jazzy both love school, the gym, therapy and attending church on a Sunday. They are very active and enjoy self-facilitated hydrotherapy, working out at the gym, conductive education therapy and are wanting to train in Paralympic sports, Jazzy with para-athletics and Tallis with Boccia. Regardless, of future aspirations, exercise and keeping active is crucial to keep this awful condition at bay so it is vital these kids keep up their busy, active schedule. It is also very difficult for Tallis to manage such a huge change to his routine, due to his autism. This is why it is so imperative to have an appropriate vehicle to transport these amazing kids in and get back on track as soon as possible.
Tallis recently, after several years of trying, earned his first power wheelchair so he can achieve a higher level of independence. He is mastering the controls and is loving being able to move on his own. However, now this his independence is limited to school and home as we cannot transport him anywhere outside of the home. Next year he will attend high school and due to attending a high school outside of his catchment area transport from the Education Department will cease. We are relying on this vehicle to be able to get him to and from high school next year.
As you can see the van you will be helping us acquire, is imperative to transport these two beautiful and deserving children to where they need to go to achieve their goals. The two wheelchair tie downs this van offers are very important so Mum and Dad do not have to lift Jazzy and her wheelchair in and out of the vehicle or to push Tallis up a ramp repeatedly. This is causing chronic pain for these two wonderful parents. The vehicle that has been being used blew up a few days ago.
Please find us on Facebook at Team Munro Kids to keep in touch, and get involved in future fundraising events. Thank you : )
Our Goals and Needs
Our goal is to purchase a two wheelchair tie down van for Tallis and Jazmine to access their appointments, therapies, social outings and to get Tallis to high school next year. Tallis and Jazzy have huge aspirations of one day being involved in the Paralympics but this cannot happen without attending their therapies and appointments. Please help them achieve their goals.
How you can help
You can help us achieve this goal by donating online here and by finding us on Facebook, Team Munro Kids, for other fundraising endeavours. Donations to The Developing Foundation do receive a tax deductive receipt so please distribute this page around your networks of friends, family, co-workers and to anyone you can to get word to about these amazing kids and their big goals.
Thank you so much for your support and for spreading this page with everyone you know and perhaps don't know ... yet : ) We appreciate you getting involved in these two amazing kids lives and goals and perhaps one day you'll be watching them in the Paralympics on your television.
Love and Blessings,
Jo, Peter, Tallis and Jazzy.
Contact us on joannamunro8@gmail.com or hockleymunro@gmail.com