| | |
| --- | --- |
| Donation Target: | $15,000.00 (AUD) |
| Current Total Raised: | $1400.00 (AUD) |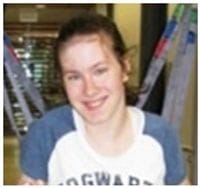 MY GOAL is to be independent, enjoy living life and having fun experiences.

Hi I'm Mikayla. This year I am turning 12! It has been 6 years since my family found The Developing Foundation and started family fundraising to help with the personal costs of the many things needed to help me develop and live with Cerebral Palsy.
Having Cerebral Palsy is a big part of my life and it has a significant impact on what I can do independently, how I can do things, and how, what and when we can do things together as a family. I have had to work hard with the help of those around me all my life to try and reduce the toll that Cerebral Palsy takes on my body and to achieve the best level of independence and mobility that I can for my future. Ongoing therapy, interventions, equipment and activities such as swimming, horse riding and bike riding will continue to be important aspects in my life as I continue to fight to maintain and build on the skills and abilities that I worked so hard to acquire.
Donations towards the cost of these things continue to be greatly appreciated and truly make a difference to how much and how often I am able to access them.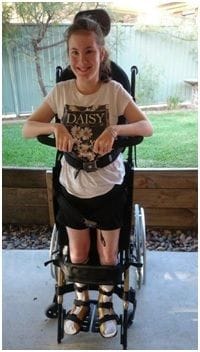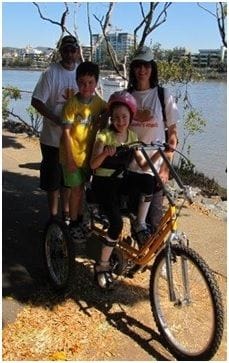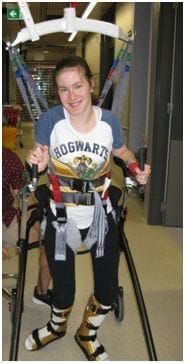 MY CURRENT GOALS
To keep increasing the things I can do independently as I move towards adolescence and high school next year.

To be able to gain and then maintain enough physical ability to be able to transfer more independently so that don't always have to rely on someone to be there to help me

To be able to get into and out of my wheelchair by myself

To be able to develop enough balance and skill to be able to ride a horse more independently one day.
MY FAMILY AND I WISH TO EXTEND OUR HEARTFELT THANKS TO EVERY PERSON WHO MAKES A DONATION TO "TEAM MIKAYLA" OR HAS CONTRIBUTED TO OUR FUNDRAISING EFFORTS OVER THE YEARS.
YOUR DONATIONS HAVE MADE A DIFFERENCE TO ME BY CONTRIBUTING TOWARDS:
intensive therapy courses that helped me keep my muscles strong and improve various aspects of daily functioning

a suitably modified vehicle in which I can travel in my wheelchair which gives me the freedom to get to places I want/need to go, and which can carry all the equipment I need when I go places!

getting a Sit to Stand Wheelchair which is providing me with the freedom and independence to stand up and stretch out my legs by myself throughout my day, being able to stand with my hands free to get items off a shelf, throw the ball to my dog, be at eyelevel with others, as well as providing me the physical benefit of relieving pressure on my spine, assisting with my circulation, bone density, and allowing me to weight bare more throughout my day among other things!

To be able to do activities that I love like horse riding and swimming which are not only an integral and important part of my therapy regime, but also to my life because of the joy I get from doing them and from achieving each small goal I set within them. Apart from the physical therapy benefits, these are also activities that I might be able to enjoy with my peers some day or perhaps even compete in.

assisting me to be able to join in with my family in activities such as bushwalking, bike riding, camping and going to the beach with specialised equipment to help me access and participate as fully as possible with everybody else. And that is REALLY important to me!

obtaining other unfunded equipment and therapy that have all made a difference to my daily life, to the development of my mobility and skills, level of physical independence and ultimately to the quality of my life.

Your donations have helped me be involved, helped me develop my independence in doing many things, be as active as I can be, stay as physically able as I can get, and has given me the chance to enjoy many experiences which otherwise would not have been possible!
Mikayla's Story
Mikayla was born unexpectedly 13 weeks early and weighing a tiny 576grams (1lb 4oz)! She spent many months in the Neonatal Intensive Care Unit (NICU) before finally being able to come home. At 18months old, Mikayla was diagnosed with Cerebral Palsy.
Cerebral Palsy affects Mikayla's muscle strength, growth and coordination, her balance, reflexes and her posture. She has a combination of spasticity and weakness affecting both her upper and lower limbs, her trunk, vision and oral function. It makes every day things difficult for her, and it puts unnatural forces on her body that will create pain and discomfort, and need management throughout her life.
Although Cerebral Palsy affects Mikayla's movement, her mobility and her level of independence, it does not affect her intellect, her sense of fun, her dreams and aspirations.
OUR GOAL is to give Mikayla the best chance at achieving the highest level of independence that she can for her future, while at the same time to enjoy living life at this moment and having a childhood with fun experiences and fond memories to balance out the everyday difficulties she endures.
Some of the financial impacts we face:
Most of Mikayla's therapy has been not been funded by government or charities for many years.

Paediatric Physiotherapy costs approx $150/hr. Speech and Occupational therapy are a similar price

An intensive block of Suit Therapy if accessed within Australia, is approximately $8500. On top of her other regular therapy we currently try to fund at least one block per year as we can see the positive results the daily intensity of these programs have had for Mikayla.

Hydrotherapy costs over $100 a session. Mikayla has regular hydrotherapy to assist her motor functioning and swimming.

Horse-riding is an excellent activity for Mikayla but it is also expensive. Apart from the physical benefits of stretching and strengthening muscles, she loves that she has some freedom of movement when on the horse!

Equipment items need servicing, fixing, purchasing, and resizing as she grows and her needs change.

Home modifications for wheelchair accessibility have been necessary due to Mikayla's Mobility restrictions

And there are a lot of other hidden expenses associated with having a family member with significant mobility and other support needs.
Family Fundraising is a vital part of enabling Mikayla to access many of the things listed here. The funds we raise through The Developing Foundation Inc, help us provide much more for Mikayla than we could on our own, and make a real difference to her life.

HOW YOU CAN HELP
The Developing Foundation gives our family the opportunity to raise funds to help us pursue the best possible outcomes we can for Mikayla. Every donation made will help us continue to work towards overcoming the challenges that Cerebral Palsy presents Mikayla every single day, and give her every chance to reach her potential, to be as independent as she can be, and to fully experience life!
To help in making a difference to Mikayla, you can:
DONATE ONLINE by clicking the 'Make a Donation' above Mikayla's photo and receive an automatic tax deductible receipt for donations $2 and over made in Australia. NOTE: Donations can still be made from overseas but Australian Tax Deductions don't apply.

RAISE SPONSORSHIP for Mikayla's team through participation in Riverwalk on Sunday, 21 August 2016, by collecting sponsorship donations on our behalf using pre-printed receipts supplied by The Developing Foundation Inc. (contact us at teammikayla@hotmail.com for more information).

SHARE THIS INFORMATION with your family, friends, colleagues, and anyone else you can think of to help us increase awareness of our fundraising efforts to make a difference to Mikayla's life.

You can follow our journey at sharemikaylasjourney.wordpress.com or "LIKE" our support page at www.facebook.com/mikaylasteam.

Volunteer to help us with our fundraising.

Think of fundraising events that we could do or even consider running a fundraising event - perhaps through a community group you are linked with - to help Mikayla.
The Developing Foundation commits 90% of funds donated to Team Mikayla, towards Mikayla's unmet needs. The remaining 10% is used by the charity to cover credit card charges, administration and support.
If you have a question for our team please email us at teammikayla@hotmail.com.
We thank you for any support you can give. It means a lot, because it will help to make a difference to Mikayla both now and into her future.
Mikayla and her family