| | |
| --- | --- |
| Donation Target: | $40,000.00 (AUD) |
| Current Total Raised: | $6130.00 (AUD) |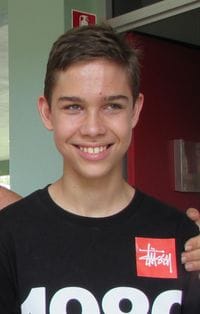 Our overall vision for Flynn is that he will grow to be a happy and content adult who will contribute positively to his community in many ways, and we will work hard to see that he has every opportunity to do the best he can.
Thank you so much for taking the time to read about our beautiful, determined son - his life so far and our hopes for his future. We are very proud of how far Flynn has come and ecstatic with the progress he has made. We hope he will continue to surprise and inspire us all with his achievements in life!
If you would like to know more about Flynn's journey feel free to contact us on rigby.frazer@bigpond.com or follow us on facebook Team Flynn support page
Flynn's Story
Flynn and his twin brother, Jack, arrived in this world 16 weeks premature giving us all a big shock!
Flynn weighed 720 grams, and Jack only 630 grams. As the babies required intensive medical attention they had to be flown from our home city of Cairns, Qld, Australia, to Townsville by The Royal Flying Doctors service only hours after their birth. Medical experts involved gave them a 10-15% chance of survival. Sadly Jack didn't make it, and he passed away after 10 days. Despite all the challenges Flynn faced, including severe bruising from the birth process, a Grade 3 IVH (bleed on the brain) and Chronic Lung Disease, he fought on and came home to us on his due date after spending 112 days in hospital!
Due to his extremely premature birth and the significant brain injury sustained from it, Flynn faced many long term challenges. Flynn needed to have Strabismus surgery at 12 months of age to correct his eyes from turning. MRI results showed lesions on the cerebellum, and areas of the brain that did not develop fully due to his early arrival, leaving Flynn with mild Cerebral Palsy, developmental delays, motor skill difficulties, sensory dysfunction issues and intellectual impairment. At the age of 3 Flynn was given the primary diagnosis of Autism, related to the effects of his prematurity. He had already been attending a Special Education Unit two mornings a week prior to this time and was working with Speech Therapists and Occupational Therapists. We decided he needed additional intensive therapy and began a home ABA program of 20 hours one on one therapy which we ran for 6 months, flying a psychologist from Brisbane to Cairns monthly to coordinate with a team of very enthusiastic and capable therapists who helped Flynn to develop skills of imitation, and build his compliance and social awareness. When Flynn was four we moved from Cairns to Brisbane so he could attend a full time early intervention unit specifically for children with Autism, called AEIOU, which involved Flynn attending for 25 hours a week of specialised Speech Therapy, Physio and OT activities to assist Flynn with his many needs. Flynn attended this unit for 18 months and made steady progress in the areas of social awareness, interaction and compliance, although still remained non-verbal. After completing Early Intervention Flynn began attending mainstream primary school where he was fully supported by many wonderful teachers, and patient and talented school officers. They helped him participate in the classroom and general school life in a very positive and embracing school community.
At the age of 9 Flynn still remained non-verbal and our greatest wish was for him to speak. Thanks to the fantastic support we received from family, friends and the community of Cairns we were able to raise enough money to take Flynn to China in December, 2011 for Stem Cell treatment which was our fundraising aim for that year. Upon completing this treatment we saw an incredible leap of progress for Flynn who began making many advances in the areas of speech, learning, co-ordination and social interaction. Before his first treatment it had taken 6 years of intensive speech therapy for Flynn to finally get to the point where he could say individual sounds for the letters of the alphabet but had great difficulty in putting these sounds together to form words, even 1 syllable words such as cat or dog were beyond his ability to consistently repeat. Upon returning from China Flynn's speech improved dramatically, saying "Happy home Mummy," when getting off the plane on New Year's Day, 2012! His first sentence ever!
This steadily improved and within only a few weeks Flynn was able to communicate his needs verbally with up to 12 words in a sentence! I fondly remember him telling me to "Go to the Chemist and get some medicine," when his baby sister was sick only a few weeks after his return. I will also never forget that first Mother's Day when Flynn, aged 9, could finally say, "I love you Mum!"
Flynn's teachers, school officers, therapists and friends were also astounded at his development after that first treatment, and he was very happy to be able to talk and interact so much. Flynn's fine motor skills of cutting, writing and drawing as well as his gross motor skills of balance and co-ordination also improved very well. Flynn was then able to write his own name and form all the letters of the alphabet. He could read to us and mastered his first 200 sight words at lightning speed.
Due to the success of the first Stem Cell treatment we took Flynn for another treatment in 2014. This time we went with the same company he had received his first treatment with, but to a different treatment centre in Bangkok. The second treatment also saw significant improvements for Flynn in all areas of fine and gross motor development and in speech and communication. His sense of humour and ability to join in conversations improved also and he became much more social due to this. He began asking more questions and wanting more information on topics.
Flynn is now 15 and in High School, where he is supported by very patient and encouraging staff who work with him to complete programs suited to his level of ability. Flynn continues to make steady progress and we feel much of this progress can be attributed to the stem cell treatments he received in the past, as well as the continuing speech therapy and occupational therapy Flynn has received and still participates in.
We would like to thank everyone who helped to make this possible by donating to our fundraising previously. The support we received to help Flynn has been so overwhelming and we know he would not be where he is today without the generosity of so many people.
Due to the vast success of the past two treatments it is now our wish to take Flynn back to Bangkok for another round of stem cell treatment. We are hoping this will allow further regeneration of his brain injury and lead to continued progress in the areas of speech, academic ability, social interaction and ultimately help him to live an independent life.
Yours sincerely,
The Rigby Family
Frazer, Jenni, Flynn, Patrick and Tess

Funds Managed by Organisation
All the funds raised are managed by The Developing Foundation Inc. on behalf of the person with brain injury or developmental disability. The organisation was established in 1978. It is a registered charity an approved provider of services by Department of Communities, Disability Services and is a quality assured organisation (ABN 58 903 560 400).
Donations are Tax Deductible
Donations of $2 or more are tax deductible.