| | |
| --- | --- |
| Donation Target: | $15,000.00 (AUD) |
| Current Total Raised: | $11160.00 (AUD) |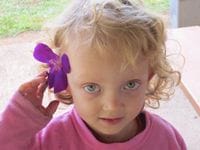 My name is Sophie. I am five years old and my parents call me their "little ray of soul shine". I came into this world with many giftspurity, innocence, courage, wonder, curiosity, joy and lessons to teach. I also came with a little something extraKabuki Syndrome and Asperger's.Like many kids my age, I enjoy being read to, playing in the park, camping, going to my wonderful Montessori kindy, painting, jumping on the trampoline, playing with my train set and cars, spending time with my Nana and Papa, listening to music and dancing along. Recently I started ballet lessons! I just love life!
Unlike most other kids my age, I have 12 medical specialists (down from 19!) and four therapists. I work hard to achieve things that come naturally to most children. I have had more doctors appointments in my few short years than most people will have in a lifetime. I have had to undergo surgery, hospitalisations, multiple blood draws, X-rays, hearing tests, EEGs, speech therapy, physiotherapy, horse riding therapy, occupational therapy, social skills therapy and more. I have low muscle tone, delayed fine and gross motor development, social delays and speech articulation issues. My therapy and medical needs will be ongoing....this is a marathon, not a sprint.
This year my parents are fundraising for therapy needs, medical expenses, special equipment (such as computer apps and sensory equipment), extra classroom support for when I start "big school" in January, and expenses associated with special dietary needs and supplements.
Up until now, my Nana and Papa, Mummy and Daddy and Aunties and Uncles have been helping to pay for all of my additional needs. Finances are getting very tight, and now we find ourselves needing to reach out to our friends and community to help support me on my journey. You can make a real difference to my future by helping to fund the specialised therapy and equipment I need to overcome the barriers of Kabuki Syndrome and Asperger's.
You can share my journey by visiting my Mum's blog about me at www.peekabookabuki.com, and see the difference that your support will make.
All donations and any support that you can offer are very much appreciated. Funds are held in a DGR (Deductible Gift Recipient account and will only be used for my needs. Here are some ways that you can help me:
Think of a fundraising event we can do, tell us about it, and perhaps even help us to run it!

Send my developing foundation fundraising webpage to your family, friends, workmates or even your Boss.
All donations of $2.00 or more are tax deductible. Corporate sponsorships are also available. The Developing Foundation commits 90% of our fundraising directly to my expenses. The balance is used by the charity to cover administration and credit card expenses. All donations are managed by The Developing Foundation and paid directly to my therapists etc, so you can be assured your money will be spent on meeting my needs.
For more information on helping or if you have any questions for Sophie's Squad please visit -www.developingfoundation.org.au/family/sophierose or email sophiessquad@gmail.com or phone mummy (Kathy Reed) on 0404 866 098
Warm regards,
Sophie, Kathy Reed (Sophie's Mum) and Frank Egyed (Sophie's Dad)