| | |
| --- | --- |
| Donation Target: | $10,000.00 (AUD) |
| Current Total Raised: | $1460.00 (AUD) |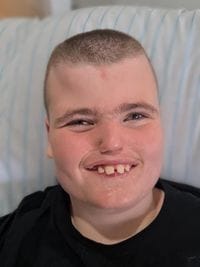 BECOME A CRUSADER TODAY AND HELP ME FULFIL MY DREAMS OF INDEPENDENCE.
My family has almost brought to reality, a completely Aedan friendly and accessible home! As Ive grown, the back door is now not quite wide enough for me to move both me and my wheelchair through independently & safely. As I grow, it will be even harder for my parents and carers to access the back yard. I have an amazing accessible home and back yard, the only barrier now is the door.
Our current goal as we move to 2021, is to ensure the back door is wide enough for me to get through safely and independently in my wheelchair.
You can follow my family on Facebook or Instagram. Our shenanigans involve lots of family fun, a fair bit of running, trail walks and a general love of life. I love to get outside. CP really has no limits!!!
You can find me on Facebook and Instagram
You can join in the fun and receive lots of big smiles. Contact mum and dad at aedan_harris@hotmail.com to find out how.

My Story

At 12 years old, Aedan cannot stand without assistance, and he cannot walk without aids. We are working hard to help ensure his overall health & physical wellness are as good as they can be. Our major goal in life are independence. This encompasses all aspects of Aedan's life.
From birth, life has thrown a few extra barriers at him and his family. He has been constantly proving doctors wrong. He has Cerebral Palsy, a visual impairment, Autism, and Epilepsy. But none of this defines who he is or who he wants to be.
He spent most of his life in and out of hospital. Aedan also has a huge personality, a love for life, but it can be a little bit cheeky. Spend a little time with him and he will make you fall in love with him.
Aedan's Crusade was started to help us fund the gaps in Aedan's therapy & equipment needs. We fundraise to give him every opportunity that he deserves.
This is why we wear our hearts on our sleeve, and have become the crazy family in blue.

My Goals and Needs

My goal is to be independent, keep moving and getting the most of life. I love to swim, play the violin and go running with dad.
Regular therapy keeps my hips in alignment and reduces the risk of hip displacement, something I have already had surgical intervention for. It also assists with my muscle tone, reduces pain and stiffness. Accessing my therapy pool in the back yard is becoming harder.
My favourite activity is running with my dad. He has pushed me in two marathons and our dream is to keep running and even try our hand at triathlons. The fresh air makes me smile and my smile is contagious with everyone we meet. I love being out in the thick of things encouraging and inspiring others to have a go.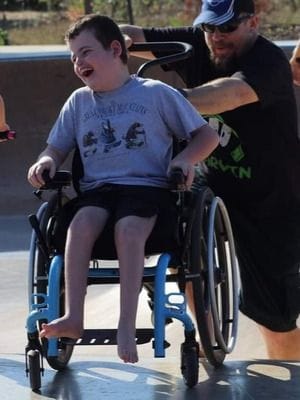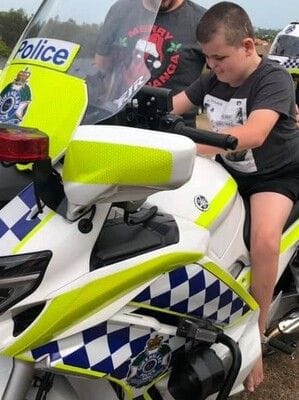 How you can help

Your donations will allow assist Aedans family to continue to strive for his independence. Modifying the back door to the house, allowing Aedan the ability to choose to move himself independently outside. Every donation of $2 or more is tax deductible. Please share our story, follow us on Facebook and fall in love with an amazing little boy.
Thank you for your continued support
Donna, Cameron, Arianna & Aedan
You can follow my progress and my families shenanigans by 'following' my Facebook page
Find me on Instagram at #AedansCrusade #iambatman
Please share this fundraising page with friends and family.