RIVERWALK BRISBANE
There will be no Riverwalk in 2018 but we will be back in 2019.
Riverwalk is a sponsored 5km charity walk held each year during Disability Awareness Week. Riverwalk commences at 10am. Participants enjoy prizes, entertainment and a complimentary sausage sizzle.
Riverwalk helps families and raises funds for vital therapies, aids and equipment for a child or adult with brain injury or developmental disability. Over the last several years, more than $2M has been raised through The Developing Foundation's facilitated fundraising programs.
Riverwalk is held in Orleigh Park, West End.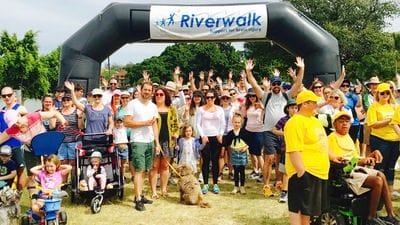 Sponsor a child or young person
Overcoming or minimising the impact of brain injury or developmental disability often requires intensive and extensive therapies, and specialised aids and equipment. To meet and sponsor our young heroes, please go to our family appeals pages or follow this link.

Making a Difference
What is Riverwalk?
Riverwalk is a 5km charity walk which is held at Orleigh Park West End in September during Disability Action Week. It is designed to help families caring for a loved one with brain injury raise funds for specialised therapies and equipment by building around them a team of supporters that help them achieve their goals.
Families walk in teams, often with team colours. One family is awarded the Most Outstanding Team trophy.

The History of Riverwalk
Riverwalk is one of Queensland's longest running charity fundraising events that dates back to 1983. Since then, there have been a few fundamental changes along the way.
The event was originally started by a small group of parents dedicated to raising funds for the organisation, who would then distribute funds to families for specialised therapies and equipment as and when required. With the support base for individual families growing, regular donors to the organisation began requesting that their donations be allocated specifically to a particular family. Approval of this action created the first charitable organisation in Australia that guaranteed the majority of monies raised for a person with brain injury are dedicated solely to the needs of that person.