| | |
| --- | --- |
| Donation Target: | $5,000.00 (AUD) |
| Current Total Raised: | $500.00 (AUD) |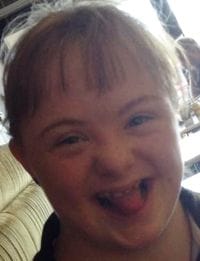 Hi my name is Reika and I am 16 years old. I have down syndrome and was born with genetic cardiac defects, asthma and ASD amongst many other things.
Please join my Facebook page.
Another year has passed we have worked tirelessly for Reika to learn to read and write, swim and in general join in activities with others. Things are slowly working. We are working on a PECS system to supplement her sight words also.
Reika likes to think of herself as a song writer and dancer. She is now learning tap and jazz.
Her speech is still improving with every articulation session.
Reika and I would love to have any person on board to help us raise funds for her to continue with her tutorial to write her name to tell time and recognise some money as this is education the NDIS will not fund. Funds will help with tutoring and structured swimming lessons (stroke correction).
If you have questions or ideas for fundraising please feel free to contact Brenda at - bin666@live.com.au.
Thank you all so much for any help you can give. All donations over $2 are tax deductible.
Brenda and Reika