| | |
| --- | --- |
| Donation Target: | $20,000.00 (AUD) |
| Current Total Raised: | $4197.00 (AUD) |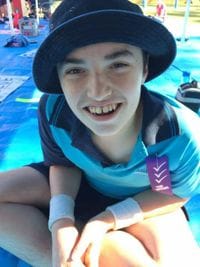 https://www.facebook.com/autismcampingadventures
WE WOULD APPRECIATE YOUR SUPPORT VIA DONATIONS TO PURCHASE A NEW VEHICLE FOR PAUL TO TRAVEL IN SAFELY. PAUL REQUIRES A CARGO CARRYING VEHICLE THAT CAN BE MODIFIED SPECIFICALLY TO HIS NEEDS. WE NEED TO PURCHASE THIS AS SOON AS WE CAN AS HIS CURRENT VEHICLE IS NOT SAFE TO CURRENTLY TAKE PAUL OUT IN. THIS IS HIS MAJOR NEED AT THE MOMENT ALONG WITH THE NEED FOR OTHER THERAPIES AND MEDICINES TO HELP HIM IMPROVE HIS LIFE. THANK YOU
PAUL'S STORY
PAUL IS AN AMAZING YOUNG MAN, WHO IS 17 YEARS OLD AND IN YEAR 12 OF SCHOOL AT ASPLEY SPECIAL SCHOOL IN ASPLEY, BRISBANE. HE HAS THE MOST INFECTIOUS LAUGH AND IS A PLEASURE TO BE AROUND. HE ENJOYS GOING OUT INTO THE COMMUNITY AND EXPERIENCING LIFE DESPITE HIS DISABILITY. UNUSUALLY, HE LOVES TO BE SOCIAL AND ENGAGE WITH OTHER PEOPLE. HE HAS A LOT OF LOVE TO GIVE. HE LOVES CAMPING, SWIMMING, ADVENTURE AND EXPERIENCING LIFE AND GENERALLY HAVING A GO. HE SUFFERS WITH SEVERE AUTISM, INTELLECTUAL IMPAIRMENT AND EPILEPSY. THESE DIFFICULTIES HAVE CONTRIBUTED TO A HOST OF OTHER PROBLEMS FOR PAUL IN THE FORM OF BEING NON-VERBAL, CLUB FEET, INCONTINENT. HE HAS HAD SURGERIES TO CORRECT HIS FEET, BUT THERE ARE ALWAYS GOING TO BE LIFELONG ONGOING ISSUES AROUND THIS. PAUL REQUIRES 1:1 CARE DAILY AS HE IS UNABLE TO MANAGE HIS LIFE WITHOUT FULL ASSISTANCE. HE IS UNABLE TO READ OR WRITE, NOR IS HE ABLE TO REGULATE HIS EMOTIONS. HE IS UNABLE TO GET DRESSED, EAT, TOILET OR GO OUT WITHOUT FULL ASSISTANCE. HIS FINE AND GROSS MOTOR SKILLS HAVE NOT DEVELOPED WELL AND THIS SEVERLY HAMPERS HIM TOO.
PAUL WAS BORN IN NEW ZEALAND AND WE IMMIGRATED TO AUSTRALIA IN 2007 TO BE WITH OTHER FAMILY THAT LIVE HERE. HE HAS 2 SISTERS, KYLIE WHO LIVES IN NEW ZEALAND AND JESSICA WHO LIVES HERE IN BRISBANE. BECAUSE PAUL IS A NEW ZEALAND CITIZEN LIVING IN AUSTRALIA HE WILL NEVER BE ABLE TO ACCESS NDIS. NOR WILL HE BE ABLE TO BECOME A CITIZEN IN HIS OWN RIGHT DUE TO HIS DISABILITY. IMMIGRATION IS COMPLICATED ON THIS SUBJECT, HOPEFULLY ONE DAY THE LAWS WILL CHANGE.
AS PAUL IS FINISHING SCHOOL AT THE END OF THIS YEAR HIS PROSPECTS FOR AN INDEPENDENT ASSISTED FUTURE IS HAMPERED BY NOT BEING ABLE TO ACCESS NDIS, WHICH WOULD GIVE SUPPORTED COMMUNITY ENGAGEMENT SO, DIANE HIS MUM, (SINGLE MUM-DV SURVIVER, HAS DECIDED TO GIVE PAUL AN OPPORTUNITY TO EXPERIENCE LIFE TO THE FULLEST AND WILL BE TRAVELLING AROUND AUSTRALIA WITH PAUL IN A 1975 CLASSIC FRANKLIN CARAVAN , THAT IS CURRENTLY BEING REBUILT SPECIFICALLY TO PAULS PHYSICAL NEEDS AND MAKING IT A "TINY HOUSE" THAT WILL BE OWNED BY PAUL AND ALLOW HIM TO HAVE HIS OWN HOME. JACKS CARAVAN REPAIRS AND SERVICE IN VIRGINIA WITH THE ASSISTANCE OF DONATIONS FROM VARIOUS ORGANISATIONS AND FUNDRAISING ARE HELPING TO MAKE THIS DREAM A REALITY. IT WILL BE TOTALLY OFF GRID LIVING AND DI HOPES TO EDUCATE, ADVOCATE AND GAIN SUPPORT FOR PEOPLE WITH SPECIAL NEEDS AS SHE TRAVELS, SHARING THEIR LIVES VIA HER FACE BOOK BLOG CAMPING ADVENTURES WITH TEAM PAULI
DI IS ALSO ON INSTAGRAM @ autism_camping_adventures_paul.
DI INTENDS TO BLOG ABOUT THE VARIOUS BIG CAMPS SPECIAL NEEDS FACILITES, FARMSIT, HOUSE SIT, FRUIT PICK, AND SOCIALISE AND GET PAUL OUT INTO THE COMMUNITY AS MUCH AS SHE CAN WHILST HELPING HIM TO LEARN AND EXPLORE, AND EXPERIENCE LIFE AND BY CREATING AMAZING MEMORIES FOR HIM AND OTHERS ALONG THE WAY WITH WHOM THEY COME IN CONTACT. DI HAS ALSO JUST STARTED HER OWN SMALL ONLINE VIRTUAL ASISTANT BUSINESS TO BE ABLE TO SUPPORT THEM FINANCIALLY AS SHE DOES NOT RECEIVE ANY KIND OF CENTRELINK ASSISTANCE DUE TO HER ALSO BEING A NEW ZEALAND CITIZEN, ON A TEMPORARY INDEFINITE VISA AND DUE TO PAULS DISABILITY, WHICH MAKES IT IMPOSSIBLE FOR HER TO WORK AS SHE IS FULL TIME CARER AND SHE ALSO WILL NOT BE ABLE TO GAIN AUSTRALIAN CITIZENSHIP ALTHOUGH AUSTRALI IS NOW HER HOME.
PAUL REQUIRES INCONTINENCE AIDES, MEDICATIONS THAT ARE COSTLY AND ALWAYS ONGOING. YOUR SUPPORT WOULD BE GREATLY APPRECIATED AND WE INVITE YOU TO JOIN US IN OUR JOURNEY AGAINST ALL THE ODDS, TRAVELLING THIS BEAUTIFUL COUNTRY PAVING THE WAY FOR OTHERS, WITH OUR SPECIAL KIND OF LIFE, TO BE ABLE TO DO IT AND BE RECEIVED WELL WITH THE REST OF THE AUSTRALIAN COMMUNITY , EXPOSING THE COMMUNITIES OUT THERE ON HOW TO LIVE ALONGSIDE, AND UNDERSTAND AUTISM AND SPECIAL NEEDS BY THEIR CLOSE CONTACT WITH US. DIANE ALONG WITH SOME AWESOME VOLUNTEERS ARE FUNDRAISING TO HELP PAUL BE ABLE TO LIVE A LIFE WORTH LIVING AND TO THE BEST OF HIS ABILITIES. THERE IS LIFE AFTER AUTISM AND NO NDIS, THEREFORE YOUR SUPPORT IS INVALUABLE AND VITAL TO HIM TO LIVE A BETTER LIFE POST SCHOOL. WE ALSO OFFER AN ONLINE SPONSORSHIP FOR CORPORATE SPONSORS WHO WOULD LIKE TO GET ON BOARD WITH US AND BE AN ANNUAL SPONSOR AND IN RETURN WE OFFER TO ADVERTISE YOUR BUSINESS ON OUR WEBPAGE ALONG WITH ADVERTISING AT ALL OUR EVENTS.
THANK YOU, MUCH LOVE
DI AND PAULI
TEL: 0450106192
EMAIL: dmpliebbrandt@gmail.com
FACEBOOK:
https://www.facebook.com/autismcampingadventures
INSTAGRAM: @ autism_camping_adventures_paul
ALL DONATIONS ARE TAX DEDUCTIBLE AND YOU WILL BE ISSUED WITH A RECEIPT.