| | |
| --- | --- |
| Donation Target: | $30,000.00 (AUD) |
| Current Total Raised: | $18050.00 (AUD) |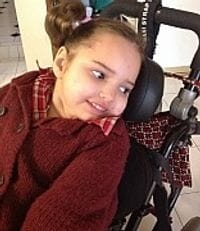 My name is Gabriela, please call me Gabby. I am 7 years old. I have cerebral palsy (CP). My family are Dad (Kevin) and Mum (Johanna), and my little sister Sofia (aged 3).
VISION: My family's vision is, God willing, for me to enjoy an independent and fulfilled life. This means for me to re-learn to walk, communicate, see, eat and play with my sister and same age friends. I've been making good progress towards this vision over the last 3 years.
I have a cerebral palsy, an acquired severe global brain injury. It was caused by a virus which gave me many seizures one of them lasting 4 days. This happened in December 2009 when I was 3 and a half. This event has changed my life forever. It left me unable to walk, talk, see and eat (I'm tube fed). After coming out of the coma, I began my journey of recovery.
I'm 7 years old now and making progress on the journey towards that vision. In the last year I've gained much better trunk control and am doing lots of tasting of yummy things. I eat up to three quarters of a banana and love chocolate. I receive my main nutrition via a button directly in my tummy. I'm also communicating more - it's one of my main focuses this year. I'm doing prompt method at speech therapy and have occasionally made sounds like mama and daddy. I can make choices through eye gaze right when facilitated. I still blink for "yes" and look away for "no" and can nod now.
Follow me on Facebook www.facebook.com/GabrielaCaldwellSupportGroup for updates, photos and videos of my progress. Some updates will also be posted to my site www.teamgabby.com.au
To continue my recovery I need extensive and continual therapy. The therapy is working slowly but surely. I am happy for my achievements, even if they may seem small, they are big to me. The road ahead is long.
Conductive Education is the main therapy I receive. It teaches me to move my arms and legs. It also teaches me better head control and supported standing, sitting and movement. The more I do these exercises the more control I will gain and my vision will also improve as my brain relearns. Occupational therapy, Speech therapy and Music therapy provide stimulation and assist with communication and oral stimulation and movement. There are other therapies that will also assist my recovery.
NDIS (aka DisabilityCare) won't even start to gradually be introduced in the state of Queensland until 2016 and will only be fully implemented in 2019. It's still a long way off and the void between now and then remains. There are many unmet needs. There are also other significant related expenses such as doctors bills and specialised equipment.
HOW YOU CAN HELP
Pray for me.

Donate to help with the unmet needs. Click on the "Donate now" button under the picture of Gabby. All donations of $2 or more are tax deductible in Australia. Please give generously to help Gabriela have the chance she needs in life. Funds raised will be used to continue Gabriela's ongoing treatment, therapies and equipment. The Developing Foundation commits 90% of funds raised by or donated to our team, to these unmet needs. The remaining 10% is used by the charity to cover credit card charges, administration and other support.

Sharing the story: Sending this page to your family, friends, colleagues and anyone else you can think of and asking them to donate

Visiting "Gabriela Caldwell's Support Page" on Facebook and clicking "Like"

Offering help to my mum with practical things and support

Help us raise sponsorship for Team Gabby at the Annual Brisbane Riverwalk event on Sunday 23 August 2015.

Think of a fundraising event we can do.
Contact my mum, Johanna, at teamgabby@live.com.au for more information.