| | |
| --- | --- |
| Donation Target: | $10,000.00 (AUD) |
| Current Total Raised: | $0.00 (AUD) |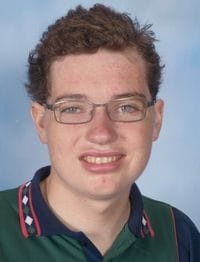 Please help Daniel access supplements and therapies that are helping him to speak.
Hi, I'm Daniel and I am 18 years old.
I have autism, and have limited ability to speak. But I've just started a few new supplements and been able to say a few sentences. I need some more speech therapy and some movement therapy too.
Please donate online or you can contact my Mum (Lorelle Ebens) on lorelle@lorelle-ebens.com and 0490 362 186 or 5549 1331.
My Story
Since I was 18 months old my brain development has not been as it should be, and I have been diagnosed with autism. My family have given me a lot of help and I have done many therapies and taken many supplements over the years. All of these have helped me become a happy teenager, with a little bit of speech. But I need a lot of help with my personal hygiene, getting food, keeping me safe, and managing in a world that is still confusing to me. I have a lot to still learn and with the continued help of supplements and therapies and special supportive people, I know I can still learn to be a lot more independent.
My Goals and Needs
This is my last year at school, next year I am leaving school and hopefully doing some volunteer work at a nursery and some other activities. I would really love to be able to communicate better with my workmates and friends and family.
My needs to achieve these goals: supplements, speech therapy, movement therapy, and maybe some augmentive communication device.
How you can help
You may donate and receive a tax deductible receipt; and send this page to your networks, eg Facebook.
Thank you so much for your support.
Adrian, Lorelle and Daniel Ebens.