| | |
| --- | --- |
| Donation Target: | $20,000.00 (AUD) |
| Current Total Raised: | $3348.00 (AUD) |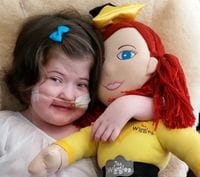 Donate Now and Help Maya
Live her Best Life
Hi my name is Maya. I am 12 years old. I love spending as much time as possible enjoying my life and making every moment count.
You see I am palliative. That means I am not expected to live to be an adult because I have many serious life threatening medical conditions. I have a disability called Velo Cardio Facial Syndrome (also known as 22q deletion). This disability causes many anomalies and sadly I have a lot of them. I have an intellectual impairment and Autism and I use a wheelchair for mobility because I am an incomplete paraplegic.
I have oxygen tubes to help me breath all the time. I cannot eat enough food to survive because I cannot digest food properly, so I have a feeding tube. I have shunts in my brain and spine and steel rods in my back to keep me from being in pain. I have a permanent intravenous drip in my chest that mummy manages at home. I also have complete bowel and urine failure which means my bowel has been brought to the outside of my tummy and I have a special bowel bag.
There are so many medical diagnoses and I could on for hours. I choose though to tell you about what I love.
I love to go the beach. In fact it is my favourite place in the whole world and I will try and get mummy to take me every single day!
I love the colour yellow and drinking pretend tea from real fine bone china teacups and teapots.
I love to watch the Wiggles and Teletubbies and talk about them ALL day long. I take my Teletubby toys with me almost everywhere I go.
I also love the snow and dream of a trip back to the snow to build a snowman (mummy drove me there when I was little and a lot more stable healthwise).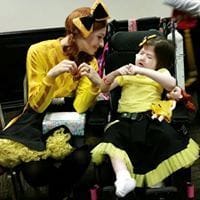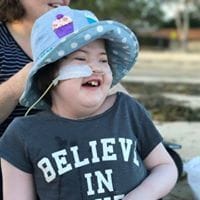 Some days I cannot wake up and sleep all day and some days I am feeling very, very unwell. On the days I am feeling good we have the best adventures. We get a little bit of help from the government for things like a standard wheelchair and 1 nappy a day for the year. The rest of the medical and disability equipment that I need mummy has to fundraise for.
We need your help to raise the extra approximately $20,000 it will cost this year to meet costs not covered by disability or health services and to help me live a full life out of hospital making moments count.
I have a Facebook page called Maya's Mates and you can share my journey there and learn more about me and watch me grow. I also share information on all of the equipment and therapy for you to see exactly where your generous donations go. You make a real difference to my quality of life.
If you would like to learn more please email my mummy on mayasmates@y7mail.com.
Maya's Needs
Equipment and aids $9,250
Rifts Activity Hilo chair $4,700

Accessible Vehicle upkeep and maintenance $2,000

Splashy Chair $750

Stimulite cushion for beach wheelchair $700

Air Mattress and Stats Monitoring Machine $700

Wheelchair Harness $400
Disability Modifications $4,650
Community Access/Support $2,000
In home support and personal care $2,800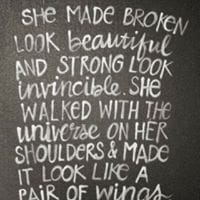 Thank you for your support
Maya and Rabecca (my mummy)
Please note: 90% of funds raised go directly to meet Maya's needs. 10% of funds raised cover the costs for The Developing Foundation to support Maya and manage her funds.