| | |
| --- | --- |
| Donation Target: | $40,000.00 (AUD) |
| Current Total Raised: | $2425.00 (AUD) |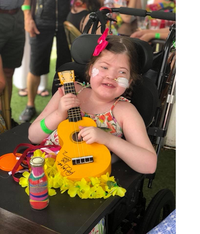 'What if I fall? Oh my darling but what if you fly!'
Hi my name is Maya. I am 13 years old. I love nothing more than days at the beach, building sandcastles and collecting sea shells. I love the colour Yellow and if I had my way I'd live in a yellow house, and drive in a yellow bus, and have yellow hair. I guess Yellow makes me happy. I love to watch Wiggles and watch my favourite star Jay Laga'aia sing.
I have Velo Cardio Facial Syndrome, Intellectual disability, Spina Bifida (I use a wheelchair I am a paraplegic) I have Autism and LOTS of medical problems. I am dependent on Oxygen 24/7 and tube fed and have a permanent drip in my chest called a port. I get sick a lot but this year I have been accepted into a Rehab program to help build me up and help me get strong again after two years of being very sick. Mum needs to take me to rehab and wants to take me away to see some of QLD and NSW this year to try and live life to the fullest. You see I am palliaitive care, all of my medical conditions related to my disability make me very fragile and not likely to live to be an adult.
I live with my mum Beck and our cat Elmo. Elmo and I are best friends. He is always with me. This year a thing called NDIS came in and has helped mum so much with all the expenses I have like equipment and supported help, and my other needs. It means mum doesn't have to fundraise constantly anymore. NDIS doesn't cover the cost of transport in helping for a wheelchair van.
Sadly, our second hand wheelchair van we bought 6 years ago is getting old and having lots of mechanical problems. It has costed mum over $12,000 in last five years to try and keep it on the road. We need to purchase a new van that will hopefully last us for a long time. We are trying to sell our house to get some money to pay for the new van and will trade our old van as well for some help but we need help to raise funds for the new van. (our wheelchair lift is still fabulous and in great working order, and we will be putting that in our new van)
We are so grateful for all the love and support and help we have received over the years and we don't like asking for help but mum needs to ask for your help. Mum would love to work again but caring for me is a 24/7 nursing job and there is no one else but her to care for me. If you would like to help us every donation no matter how small over $2 is tax deductible. Every donation is appreciated and helps so much. You can also help by sharing Mayas Facebook page https:/www.facebook.com/mayasmates/
If you would like to make a donation please head over to www.developingfoundation.org.au/family/maya and make your donation online to receive an immediate tax receipt via your email. If you would rather a bank transfer and a bank receipt please let us know we can point you in the right direction.
Thank you so much for your time and thanks for being our new mates.
Maya and Beck
mayasmates@y7mail.com