| | |
| --- | --- |
| Donation Target: | $30,000.00 (AUD) |
| Current Total Raised: | $180.00 (AUD) |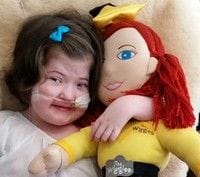 "AND THOUGH SHE IS BUT LITTLE, SHE IS FIERCE." WILLIAM SHAKESPEARE.
Dancing with Emma Wiggle is the best way to start my day. I love painting and drawing and I really love music therapy. I am very good at colour matching and I am very interested in colours and how they can be made into different colours by mixing them. I love to watch the Wiggles, Teletubbies and Playschool and love, love, love singing along to the music. I love to go the beach and build sandcastles. Just recently I developed a love for the theatre and love seeing musicals.
My name is Maya and I am 11 years old. I have had a really busy 11 years spending a lot of time in hospital. I have a syndrome called Velo Cardio Facial Syndrome I know right what a mouthful of a name. It just means I am missing part of my 22 chromosome pair in my genetic makeup. Sadly the tiny bit missing has meant I have a lot of medical conditions and disabilities. I need oxygen tubes to help me breath. I need a tube to feed me and a special long term central line drip in my chest so mummy can give me continuous medications and nutrition via my drip. I need special catheters to help me wee and my bowel is on the outside of my tummy as well. I use a wheelchair for mobility because I am an incomplete paraplegic. I have shunts in my brain and my back and spinal rods to keep straight. I have had 102 major surgeries since I was born. I have lots and lots of medications because I have medical conditions such as epilepsy and adrenal insufficiency and many more. The doctors have told mummy I will not live for long and they say I am palliative care meaning, I will not live to be an adult. I could go on and list all the bits that are broken in me but that would be boring. I'd rather tell you about my dreams and wishes for a making my life the best it can be. I have a lot of reasons to stay in bed and give up but I don't. I want to dance and play and explore and have adventures just like other children. I want to fit all the special things people do in their whole lifetime just into my childhood. Mummy and I have been to the snow a few years ago and I skied down a mountain in a special wheelchair. When people say I cannot do something mummy and I make sure we show them that I CAN do anything and then we do it. We like to push boundaries and scare people a little because its fun to show no fear. We need to ask our mates for help because sadly a lot of things I need to make my life the best it can be require funds.
The cost of caring for me given my many medical issues and disabilities far outweighs my mummy's carer payment as a sole carer. Every year we fundraise to meet my basic medical, therapy and equipment costs that are not covered by any government funding. This year is no different. Please help my mummy and I to fundraise and spread our message so that we can continue to spend special times together by:
Becoming our Mate

Sponsor our team by making a tax deductible donation

Promote awareness by emailing Maya's web page to your friends and family

Donating to one of our fundraisers

Attending one of our fundraisers
If you would like to learn more please email my mummy on mayasmates@y7mail.com or check out my special cause page on Facebook called 'Maya's Mates', where you can follow my achievements.
All funds raised are managed by The Developing Foundation Inc. 90% of the funds raised go directly to Maya's special needs. The balance is used to cover administration and credit charges. All donations of $2 or more are tax deductible and you will not receive any additional credit card charges.
My mummy and I appreciate any support you are able to offer us. Help make every moment of my life count for me.
Love
Maya and Rabecca (my mummy)